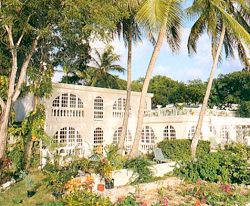 All 4 air conditioned bedrooms directly overlook the beach from their patio.
The house is terraced right over the sand and has a particularly panoramic view from the upstairs balcony.
Along with the neighbouring Chandos, the villa has all the expected facilities of high standard accommodation and if any special facilities ae required, every effort is made to fufill these needs.
Cots and babysitters are available on request.
Click on small photos to view!
RATES (US$/day) - excluding Tax
WINTER (Dec 14 - April 16)
SUMMER (April 16 - Dec 14)
820
440
**Discounted rates are available on request if fewer that 4 Bedrooms are required.**
Alternative Accommodation:
Chandos
Chandos Villa

| Welcome | Properties | Amenities | Contact Us | Discover Barbados |