Chandos - charming accommodation with a touch of Caribbean flair! Chandos Suite is an attractive option with just one bedroom.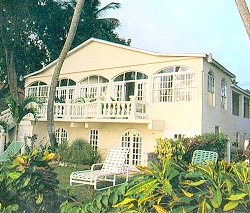 Chandos Suite lies below the main house. This fully equipped one bedroom ensuite air-conditioned apartment is situated at ground level and leads directly onto the beach.
Maid service is available and cooks are present. Babysitters are readily available on request.
RATES (US$/day) - excluding Tax
WINTER (Dec 14 - April 16)
SUMMER (April 16 - Dec 14)
220
115
**Discounted rates are available on request if fewer that 4 Bedrooms are required.**

| Welcome | Properties | Amenities | Contact Us | Discover Barbados |